Quality Proofreading Services UK
LondonProofreaders.co.uk is a leading provider of professional proofreading services in the UK.
London Proofreaders is the UK's leading proofreading & editing company – We use two proofreaders
At LondonProofreaders, we use a two-proofreader system. This means every single document sent to us is proofread by two of our highly skilled editors. Our two-proofreader model is central to our mission of providing the highest quality UK proofreading and editing service around. Our service includes both proofreading and editing on every document.
Learn more about what we check here >> What we check
We have pioneered the two-proofreader model. We believe that two proofreaders are better than one and we are sure that you will agree. One proofreader, regardless of how experienced they are, can still miss errors in your document.
We are the only company in the UK that uses the two-proofreader system. Our high quality proofreading service improves your writing and we only use the best editors with advanced degrees.
We work on all types of documents:
Whether you are a student who needs an essay or dissertation checked, a novelist who has finished their first novel or a business we can help you. We proofread and edit
essays, papers, assignments, reports, personal statements and we can also help you if you have a thesis or dissertation. We offer a precise, reasonably priced academic proofreading service.
and PhD proofreading service.
Our Prices:
We charge £12.50 per 1,000 words for all documents

Our Proofreading Services: Why Choose London Proofreaders?
We are a real UK limited company based in London. Beware of foreign-based companies without contact and address information on their website.
Keep safe with us. Our document management systems are 100% secure and our service is confidential. We ensure your peace of mind.
Other companies charge extra, we include proofreading and editing in our price.
Two highly experienced Native English editors with advanced degrees check and correct your work.
We offer fast turnaround times and 3, 6, 24 and 48 hour express proofreading services.

We have extensive experience with all subject areas from biology and law to history and economics.

What does our service include?
We use the Track Changes feature in Microsoft Word so that you will see all of the amendments that we have made. We include one round of editing in the price we quote.
Our professional editors correct the following:
✔ Grammar
✔ UK/US Spelling
✔ Punctuation
✔ Capitalisation
✔ Sentence structure
✔ Word choice
✔ Academic style and flagging repetition
✔ Academic tone
✔ Repetition
✔ Verb tense
✔ Correct use of UK English
We add useful comments explaining common errors you are making and how to improve your writing.
To find more details about what we check click here..
Here are proofreading and editing samples.
All of our IT systems are fully secure and we guarantee the security of your information under the Data Protection Act. You can order online seven days a week. Note we don't count weekends in our return times
Improve Your Marks By Up To 10%
Sample of an edit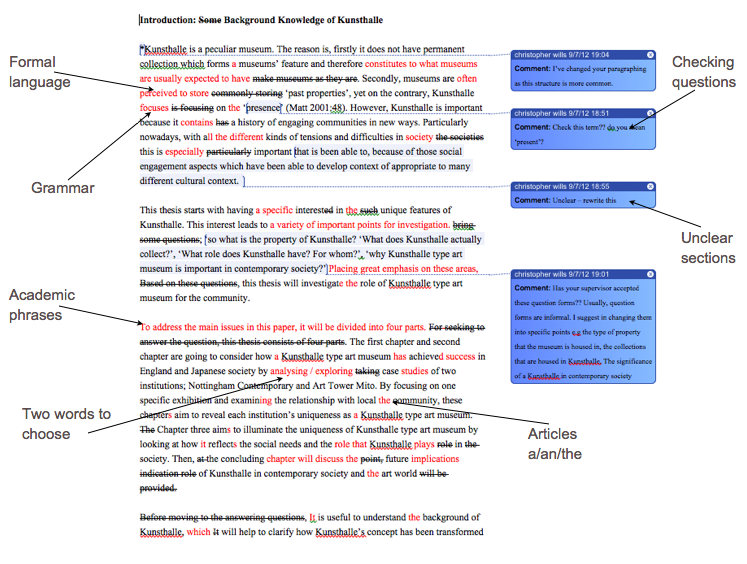 'Having English as second language I always struggled to structure my assignment. However having my assignments proofread by London Proofread's it has been the best thing I have done. Which resulted on me getting the best grades possible. Thank you London Proofreaders'
Neda M., University of Manchester
Who Are Our Proofreaders?
Our proofreaders are all native UK English speakers from top universities
They are all university graduates, with a minimum of a Master's degree and many have PhDs.
They have an average of 6.8 years experience in proofreading and editing
They undertake continuous professional development to improve their editing skills
Many are multi-lingual – these are the ones we assign for foreign student proofreading
We ensure quality through a challenging four-step application process – only a small number of applications are successful
We undertake stringent quality control to ensure our standards are upheld
Many proofreaders are members of key industry bodies, such as the Society for Editors & Proofreaders (SfEP) and the Council of Science Editors
Have a look at our academic writing blog. Interested in our Grammarly review article. Read it here.
How long does proofreading take?
| | | | | | |
| --- | --- | --- | --- | --- | --- |
| 0 to 2,000 words | 2,001 to 5,000 words | 5,001 to 10,000 words | 10,001 to 15,000 words | 15,001 to 20,000 words | 20,001 to 50,000 words |
| 2 working days | 2 working days | 3 working days | 4 working days | 4 working days | 5-8 working days |
Choose The Proofreading Experts